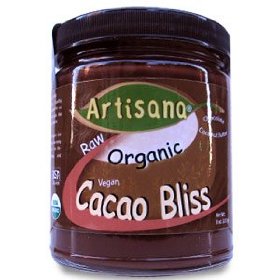 Recommended to me from a friend as a more natural Nutella alternative, but with a coconut instead of hazelnuts, Artisana's Organic Raw Cacao Bliss Coconut Butter was everything it was hyped up to be, a raw and organic chocolate coconut confection spread that will delight your tastebuds.

If you love chocolate and coconut, then you have to try it. It has the consistency of Nutella, but instead it's made from raw organic ingredients. It works just well for everything you would use a delicious chocolaty spread for, my favorite is in a crepe with some sliced bananas.
The only ingredients are a blend of organic Coconut Butter, Coconut Oil, Agave, Raw Cacao Powder and Raw Cacao Butter and taste amazing. I bought mine from Amazon, but they are also available from several online stores listed on Premier Organics website.