Do you ever get headaches at work and don't know why? While it is probably your boss or that annoying co-worker, it could just as well be your office furniture. The office is full of toxins, from printers to off-gassing formaldehyde in the desks and cubicle dividers. The EPA even has a name for it, sick building syndrome. It's more than just paint VOC, it is also the furniture.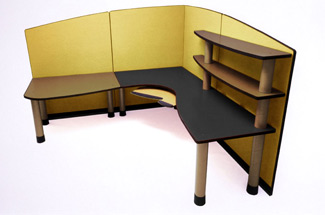 Ecowork has come up with a eco friendly solution, and even interjected some much needed design flair. Typically, 95 per cent of the material content of an Ecowork EG workspace is derived from recycled or rapidly renewable materials.
Work surfaces are made from a durable and attractive material derived mainly from waste wheat straw, which would otherwise be incinerated, adding contaminants to the atmosphere. Office panels are created from recycled newspaper, legs from recycled cardboard, and feet from used tires. A typical Ecowork workstation can divert up to 450 lbs of material that might otherwise have been headed to the landfill. The workspace is also recyclable at the end of its life.
To keep your environment toxic free, the straw is combined with a non-formaldehyde-based binder to deliver a superior and durable worksurface, sustainable in terms of content as well in its effect on indoor air quality. The board is colored with water-based dyes and finally coated with ultra-durable, water-based UV-cured flat-line coating. UV curing ensures that finishes don't emit gases into the atmosphere, but are cured immediately after application by intense light.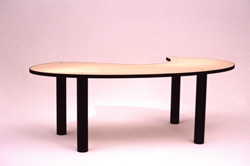 Surfaces are available in seven natural colors or sustainable bamboo veneer. Panels separating workspaces are created from 100 per cent waste newspaper, pressed into strong, moisture-resistant panels. The material helps to reduce reflected sound in the work area. The legs of the system are made from 100 per cent recycled cardboard, bound by water-based adhesive, and set on feet produced from recycled tires. All the edges of the system are trimmed with ¼" thick neoprene, which avoids the negative environmental aspects of typical PVC. An additional benefit is the cushioning effect on all exposed edges.
The system is flexible, with over 200 parts to select from, allowing for organization and size according to space and needs. From self-standing single work surfaces to hundreds of workspaces, the system can adapt to please. With design cues and influence from natural and human shapes, these office spaces look good and surround the individual, keeping work in reach.