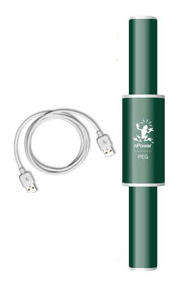 Now you can be your own recharging station to all of your USB enabled devices. Cell phones, iPods, Kindles, GPS units, and just about any other hand-held electronic device can be charged by this renewable energy source.
A kinetic energy generator based on a wave energy converter, the nPower PEG (Personal Energy Generator) can go with you anywhere and will recharge your devices as you walk, run, hike or bike. By harvesting vertical movements of your everyday activities, they state that it is "able to charge handheld mobile electronic devices at the same rate as a wall charger, which means most devices reach an 80% charge with just an hour of walking throughout the day." Just think of how much additional energy you could create at the green gym!
Some other great features of the PEG:
Generating 4 Watts outputted through a USB 2.0 standard plug
Constructed out of anodized aluminum
Measures 9 inches tall and weighs 9 ounces
Produces renewable energy
100% recyclable
Components made of recycled ABS material
RoHS Compliant
Does not contain a battery
The claims are pretty astounding, but the company insists that their product can back them up. I for one look forward to the release of this personal power pack. If you are interested, you can signup to pre-order the PEG on their website here. They are estimating the PEG to cost just under $150.