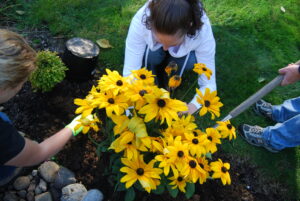 Instilling green values in our children is more important now than ever before. We take the time to teach our children study habits, math, and reading, to prepare them for college.  We also teach them to manage their money, and spend their allowances wisely. We do these things because we care about their future. But are we also caring for their environmental future? It is important that we not only go about our own environmental efforts, but that we teach our kids to care for the environment as well.  We adults often do a good job of living up to the green ideals and values that we believe in, but all too often we fail to instill green values in our children.
Start by introducing fun activities at home that demonstrate green values or principles. There are a ton of good books out there for ideas if you need it. Below are links to four of my favorites.
There are also many websites for kids to learn more about the environment. My favorite resource for kid-friendly sites is from the National Resources Defense Council (Find it here!). They have the largest list I've found of fun sites for kids of all ages. I have to admit as an adult, that even I like to play around on a few of them in my spare time. There's also a few sites listed where kids can get involved in enacting policy change by writing letters to local legislature or identify areas for change in their schools or at home.
[ad name="Go-ED-LgSquare"]
Involving your children in daily, household tasks that better the environment is also important for developing good habits early on. Include recycling activities, gardening, and eco-conscious shopping activities. Teach your children the benefit of reading labels to identify ingredients that are harmful to you or the environment. You can even include these tasks on their chore chart. Help them understand the importance of planting trees, and being involved in community environmental efforts.
Integrating green values into your children's lives is easier than you think. But it's important that we start now, to instill green values in our children. Just as with any other life skill, the sooner we start teaching it, the sooner they will adopt it as their own.