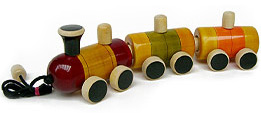 Another great find at the Seattle Green Festival were these gorgeous handcrafted wooden toys. They are the kinds of toys your grandparents and great grandparents used to play with, each handcrafted and built to last. What was truly amazing is the craftsmanship of these toys. They are built sustainably by a small village of artisans named Channapatna in southern India that has made toys for generations, and it shows.
Earthentree uses sustainable and fast growing Hale wood (Wrightia tinctoria) and Rubber wood (Hevea brasiliensis) for its weight and durability properties, and which happily do not contribute to deforestation. Only natural dyes are used in making its products and a natural non-toxic traditional lacquer technique is used to give the toys their smooth shiny appearance. Here are the sources of the dyes used to color the toys: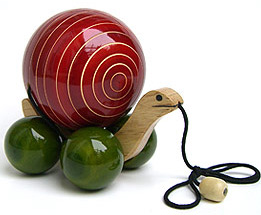 Dark Blue/Black: Extracts from the Indigo Plant
Yellow: Turmeric Powder
Orange: Kanchi KumKum and Turmeric
Red: Kanchi KumKum and Natural Alizarin
Dark Brown: Extracts from the Ratanjyoti Tree
Light Brown: Extracts from Katha
With colorful and sustainable toy designs for educational uses, games, noise makers and rattles, pull toys and more, it just makes you want to go back and be a kid all over again, doesn't it?