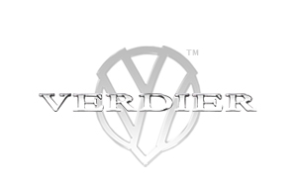 If you are thinking this is just an updated VW bus from way back (before i was born) then you are in for a big surprise. We aren't talking dirty old bus camping, his takes mobile camping to a whole new level- a stylish and green level. Verdier takes the Westfalia VW van light years into the future- with so much going on, where do i start? First lets start with style. This looks like one of those car show prototype vehicles, a clean futuristic design with functionality you would expect from a 2001 Space Odyssey ship computer. The kind of vehicle that everybody drools over, but never quite makes it to production. An interior that is minimal, but not lacking, and carries the comforts and coziness of home. The clean lines and eye catching details that keeps turning heads for years to come. This sharp looking van comes in 5 different trims, from a fun yet classy retro woody, to a very clean, very chic deep black metallic.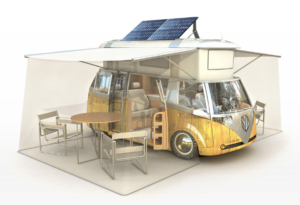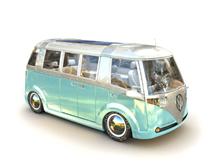 All that AND its green you say? Yep, and we aren't talking Hybrid Cadillac Escalade 'green' either. This is the real deal with a 4 speed automatic turbo BioDiesel Hybrid drive train, so when you aren't on electric, you can be running on recycled cooking oil (not to mention the inherent superior mpg of a diesel engine). Combine that with integrated Sun Tracker solar panels on the roof (they use GPS and an onboard computer to calculate the optimum charging position of the panels), and you can charge up your batteries without fossil fuels and may not even need that diesel engine at all! It really is a self sustaining camping system.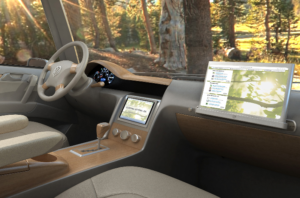 The features and gadgets on this masterpiece will keep even the most 'ADD' of us occupied and happy. The ride height is adjusted pneumatically 3 to different positions for maximum comfort and just plain looks cool in camping mode. Two generous size gazebos pop out of each side, with matching folding furniture housed in a special compartment in the rear of the van (out of the way, so as not to clutter your living space). A swivel table with a cooking range and table are integrated right into the side of the van to give you an ideal outdoor cooking area and a fridge and freezer complete your kitchen. A projection home theater with 5.1 surround sound can be viewed inside, or reflected out a side window to create an impromptus drive-in theater for the whole campground to enjoy.
Now to the scary part we are all waiting for, the cost. For the full featured camping version with the Sun Tracker system, you are looking at $129,000. They also offer a ground power version which retains the solar cells and the hybrid drive train and seats 6 for a more affordable $69,000 if you don't need all the camping features. With all the wealthy post internet boom hippies out there, i suspect you may see one of these coming soon to your local camp ground.
via [eco-chick]