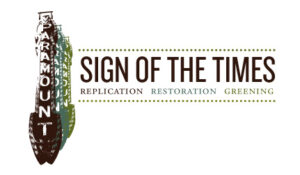 Seattle is a pretty green city, both in vegetation and environmental awareness (although the lack of public transportation situation is mind boggling), so it is only fitting that one of the most recognizable entertainment icons is getting a green revamp. The Paramount Theater near the heart of downtown Seattle is in the process of a green upgrade, starting with the signature marque sign.
The newly replicated sign will be approximately 90% more energy efficient. Currently The Paramount vertical sign has 1,932 incandescent bulbs using 11 watts per bulb, driven by several large mechanical chasers. The replacement consists of .75 watt LED bulbs with electrical chasers gaining the largest energy efficiency increase. Magnetic transformers will be replaced with Ventex High Power Factor (HPF) electronic transformers to power the neon portions of the sign. These units will save up to 66% of the energy currently being consumed by the neon lights.
In addition, the aluminum used for the sign restoration upgrade will exceed LEED (Leadership in Energy and Environmental Design) specifications and consists of 17% post-consumer and 27% post-industrial recycled aluminum materials.
For more information and to help with the project, visit the Paramount's Sign of the Times site.