As a little post-thanksgiving trip, my family and I decided to head down to the all new California Academy of Sciences in Golden Gate Park. If you aren't familiar, it houses the Steinhart Aquarium, Morrison Planetarium, Kimball Natural History Museum, and is home to world-class research and education programs- all under one green roof.
What a extraordinary building and beautiful place. The recently completed rebuild due to damage from the 1989 Loma Prieta earthquake, boasts a design by award-winning architect Renzo Piano. The green architecture is readily apparent, but does not distract from the elegance and architectural design of the building. One of the most striking features, noticeable right away, is the green roof. This living roof is planted with 2.5 acres of native vegetation, composed of 9 native California species. No irrigation is required and it will provide habitat for a diverse collection of wildlife, from hummingbirds to butterflies. An amazing (and at the same time kind of terrifying) feature is that this native garden roof contains the largest concentration of native vegetation in San Francisco (an estimated 1.7 million native plants). See other green living roofs and walls in a previous post.
"When the Academy was faced with the need to rebuild, the institution's visionary Board of Trustees committed to building a new home that was as sustainable as possible," said Academy Executive Director Dr. Gregory Farrington. "Our goal was to create a new facility that would not only hold powerful exhibits but serve as one itself, inspiring visitors to conserve natural resources and help sustain the diversity of life on Earth.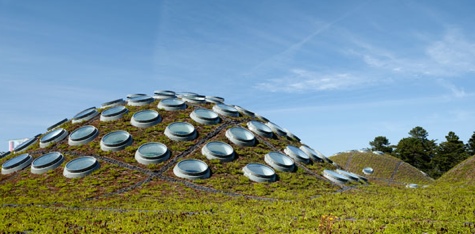 The building itself is platinum LEED certified, and at 54 points, it is the greenest (and most sustainable) museum building in the world right now. It boasts renewable energy efficiencies i had never heard of, such as sensor faucets in the bathroom which charge themselves with each use. A turbine in the plumbing generates electricity to recharge the batteries each time the faucet is turned on. Solar panels provide 10% of the museums energy needs and natural lighting in almost every room decreases the need for artificial lighting. A state of the art HVAC (heating and cooling) system was integrated into the buildings design, reducing energy costs using radiant floor heating, efficient window glass and heat recovery systems. The building itself was created using recycled and reclaimed building materials and sustainably harvested wood, and the insulation was provided from recycled blue jeans.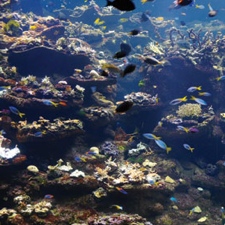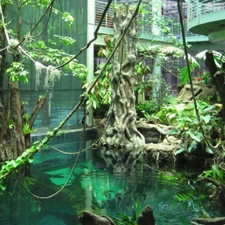 Admission to the Academy is: $24.95 for adults; $19.95 for youth ages 12 to 17, Seniors ages 65+ and students with valid ID; $14.95 for children ages 7 to 11; and free for children ages 6 and younger. The Academy is free to the public on the third Wednesday of each month. Admission fees include all exhibits and shows. Hours are 9:30 am – 5:00 pm Monday – Saturday, and 11:00 am – 5:00 pm on Sunday. The Academy is closed on Thanksgiving and Christmas. Visit them online at www.calacademy.org or call (415) 379-8000 for more information.