Sustainable clothing lines are getting much more attention these days with both environmental and social impacts being highlighted, particularly as a move away from harmful "fast fashion" practices. Undergarments are a far more tricky item to tackle as they must also address:
Skin sensitivity issues
Both from a friction and chafing aspect as well as fabric-to-skin interaction. Many have adverse reactions to polyesters, wool, and fabric blends that become exaserbated when used in those extra-sensitive areas.
Frequent washings
Many fabrics and stiching deteriorate rapidly after constant washing machine and machine dryer exposure
Support and fit
The right balance between comfort and support without feeling like compression fabric is not always easy
I am a huge proponent of Hemp as a textile and believe we should be using it in more applications as a replacement for cotton. WAMA has been incorporating Hemp into their undergarments to increase the sustainability of the fabric as well as improve the social responsibility of manufacturing.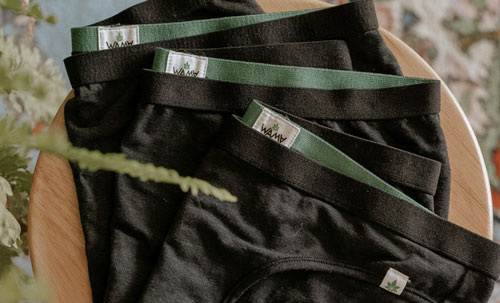 I was fortunate enough to receive a few samples from WAMA to try out, and so far I am very impressed. The fit is great with the right level of support (snug without feeling too tight) and lasts the whole day. They did a great job of maintaining a nice fabric feel as many of the other hemp clothing I own tend to be a bit chunky or scratchy similar to linen, not so with WAMA. They have balanced the fit, feel, and durability– all while developing a more sustainable product and manufacturing process. WAMA hemp underwear is 53% Hemp, 44% Organic Cotton, and 3% Spandex.
Sporting certifications such as OEKO-TEX Standard 100 for harmful substances, a Green America certified business, and a member of the amfori Business Social Compliance Initiative, WAMA is going beyond just selling underwear. Beyond that, WAMA actually seems interested in doing more and continuing to improve their product, their sustainability, and their social practices- which is a reason in itself to support them.
Check out WAMA's 'nude' underwear colors that incoportate a nice spectrum of skin tones!