Last night I had a major craving for all the eco-friendly indulgences of Seattle, and I knew just the way to satisfy my craving.
In the heart of SODO tucked under the first avenue bridge in the awesome location of URBAN enoteca, CRAVESeattle hosted their 2011 green event. Which much to my delight was this eco-friendly girls dream come true.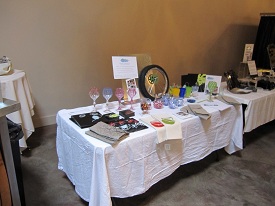 Showing everything from makeup made from crushed mineral color dust of 100% pure mineral pigments in colors to die for, to old Hollywood film purses and wallets by Portland's own Deja Movie Film Bags, the night was full of craveable eco-friendly treats.
One of my favorites was the Sweetlily organic salon. My friend had her makeup touched up with the vegan/gluten free powders, and I think you could literally eat it. I had a coconut oil, turmeric hand massage which made my arm smell delicious and baby soft for the rest of the evening.
[ad name="JPrectangleSTD"]
In addition to numerous eco/organic spas, there was eco fashion show, delicious organic goodies and free eyebrow sugaring from Sugar Sugar, with organic sugar of course. The only downfall to my eco-chic evening was I wish the grab bags had less paper, or for that matter if they were going to use so much paper at least have it be recycled.
Thanks to Britt for covering this event for The Chic Ecologist! Britt is a social media guru and Seattle fashion networker and writes the blog Socially In Socially Out.