There is nothing like fresh cut flowers to brighten up a room, and who doesn't like getting flowers? Now there is a speedy and green flower delivery service in San Francisco bringing joy to those in the 7×7.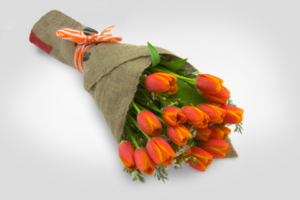 BloomThat is doing things a bit differently, and greening up an otherwise dirty industry. By sourcing local and in season flowers, they avoid the transportation costs and pollution from a typical Fed-Ex Flower. It also helps to support the local community and farmers, all while you get the fresh and longer lasting flowers. Delivered by bike messengers, you get lightning speed delivery with no additional fossil fuels burned.

The presentation is impeccable, complete with an upcycled sustainable burlap wrap sourced from a local coffee roaster. The rustic, earthy tones and textures are a perfect balance for colorful blooms and really complete the package. Flowers and bouquets start at $25, and include free delivery. Perfect for surprising someone at work in under 90 minutes, I hope they are able to expand their operation model beyond the Golden Gate.