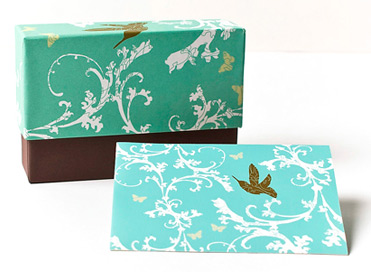 I don't always enjoy sending thank you notes and cards for different occasions, but I recently found a small box of blank inside cards with beautiful clean design that just makes me want to write and connect with people. Its strange, I know, but I think there is something to finding that 'just right' card that makes you enjoy sending little notes to people. These printed cards are made by Whimsy Press, and would you believe it, they are green!
Eco-friendly and sustainable materials are used in almost all of their products, but they also carry a 'Mixed Greens' line for those with higher standards. These are certified by the Forest Stewardship Council and printed on 100% recycled paper with soy-based inks and packaged in biodegradable, compostable corn-based cello bags. They also carry a line of printed tote bags and accessory bags made of 80% recycled cotton and 20% recycled soda bottles.
Originally created by co-workers from an ad-agency, their great card and gift wrap designs soon impressed clients and others leading them to form Whimsy Press. It is pretty obvious by the intricate artwork, clean and simple design, that these were created by true artists with design skills.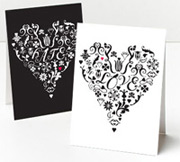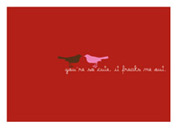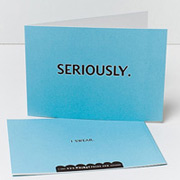 Their attention to using green materials and eco-friendly processes is a perfect match. I am a huge fan. FYI – last time i checked, they had a 60% off everything on their site, so you may want to check it out and pick up some thank you cards or some witty birthday cards for your friends.