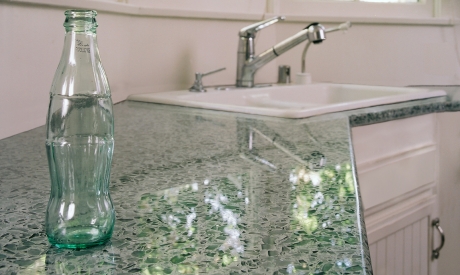 When I think of what impacts me the most in a kitchen, I think of 3 things: Cabinets, appliances and counter tops. Beautiful counter tops can be the crown jewel of your kitchen – an essential focal point that just ties everything together. Granite was the standard for a very long time followed by manufactured stone, then came a 'greener' fly-ash concrete alternative, now Vetrazzo just raised the bar with their recycled glass surfaces.

Made with up to 85% glass by weight in a non-resin cement binder, these counter surfaces consist primarily of recycled wine, beer and mineral water bottles processed in California. A smaller portion of the glass is recycled from traffic light lenses, glass windshields, shower doors, architectural window glass, stemware and art glass. One 5 ft. by 9ft. panel of Vetrazzo can recycle up to 1,000 glass bottles.

Closer to a re-use than a recycle, the recycled glass is not actually melted down, but rather processed directly into the counter surfaces saving 11,600 metric tons of CO2 (since 2007) by transforming recycled glass into Vetrazzo instead of new bottles or fiberglass. That translates into same amount of energy saved by removing 2,125 passenger vehicles from the road for an entire year.

Not only for kitchens, Vetrazzo surfaces can be used for kitchen and bath countertops, fireplace mantles, tables and desktops – pretty much anywhere you need a solid, beautiful surface. They even provide a Certificate of Transformation that tells you exactly where the glass in your Vetrazzo surface came from. Pretty cool stuff if you ask me, and what a novel use of green design.