Repurposing (also known as upcycling or reuse) is really the best way of taking an existing object (usually no longer suited for its original purpose)  and reusing it for another purpose. This can be as simple as creating an art mosaic out of broken dishes, to turning old doors into tables. It can be as creative as you are and just takes some imagination and good ol' Macgyver skills. Doing this in a pleasing design friendly way can sometimes be a challenge, but here are a few of my favorites that have worked brilliantly both in the visual and the functional uses. First up, some great green home ideas of repurposed furniture, decor and lighting: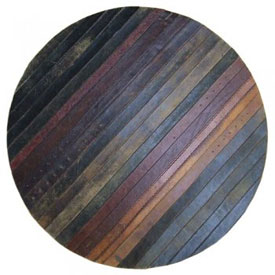 Vintage Belt Floor Mat
One of the coolest floor covering/mats i have ever seen. Its made of old leather belts and has a textures and colors that astound me. You can find them at Branch Home, along with a whole lot of other cool designed sustainable items and housewares.
Designer: Inghua Ting
Made from: Vintage leather belts
Price: $688.00
Buy it at: Branch Home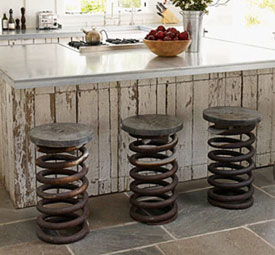 Truck Spring Stools
A wonderful example of an industrial use object repurposed for home use. It has great interesting design with all the charachter of a vintage weathered found object. It wouldn't work in all homes, but it would look really cool in a few.
Designer: Ken Fulk
Made from: Discarded truck springs
Find it at: Artefact Design & Salvage in Sonoma, California.
[via
apartmenttherapy
]
Tower Light
Metaform Studio offers great green design by upcycling wooden palates and other materials into lamps and lighting solutions. The light pictured is created by hand from a variety of found wooden palates along with a good design sense. While it might be worthwhile to try this yourself, if you would like to pass up the learning curve and go directly to a elegant professionally re-crafted product, this is your answer.
Designer: Khader Humied
Made from: Found wooden palates
Price: $1,400.00
Buy it at: Metaform Studio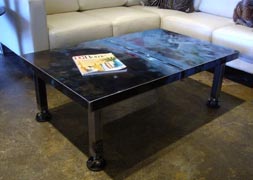 Vintage Automobile Hood Tables
Metal coffee tables repurposed from vintage car and truck hoods are unique, beautiful and have some history. Not something you find everyday, and probably pretty difficult to do yourself, these are not for the amatuer upcycler.
Designer: Joel Hester
Made from: Vintage automobile hoods
Price: $850.00
Buy it at: joelhester.com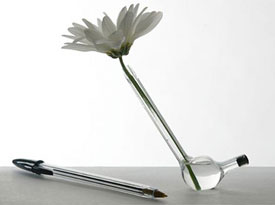 Daisy Vase
Repurposing the bic pen is very easy, and considering how many disposible pens there must be out there, its a good candidate. The preceding link shows several uses such as a handle for a set of utensils all the way to dynamic sculpture lighting. I am very impressed by the range of uses people have come up with for this simple and abundent object. The bic pen vase is one of my favorite because it radically changes the use and original form of the pen with very little energy or effort.
Designer: Jim Termeer and Jess Giffin
Made from: disposable Bic pens
Price: $22.00
Buy it at: designboom