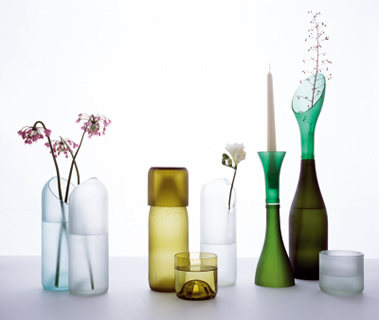 The TranSglass Recycled Vases and glassware by Emma Woffenden & Tord Boontje are not only beautiful, but also a practical green design solution to the abundance of empty wine bottles out there.
Remember, reuse is better than recycling, and although some energy is used to recreate these works of art, it is most likely less than that of the recycling and manufacturing process. Plus, how cool are these designs? They don't even need a flower to look good. This is probably why they are in the permanent collection of MoMA New York.

The Transglass collection are made from various colors (green, clear and brown) of both wine and beer bottles and come polished or in a satin finish (think beachglass). Clean, sharp lines combine with the translucent form resulting in a unique and interesting object. Perfect for fresh cut flowers or foliage for a table, filled with dried twigs in a bedroom, or alone on a bathroom counter – you really can't go wrong.
Available as vases, carafes, tumblers, cups, votive candle holders, and a number of other creative forms, your imagination is the only limit to their uses. Produced with the help of Aid to Artisans, a non-profit organization providing assistance to artisans worldwide, many of these pieces are finished by Guatemalan craftsmen. They are priced very reasonably for such a high quality designer product and start at $38
Available through Artecnica or online at re:modern.