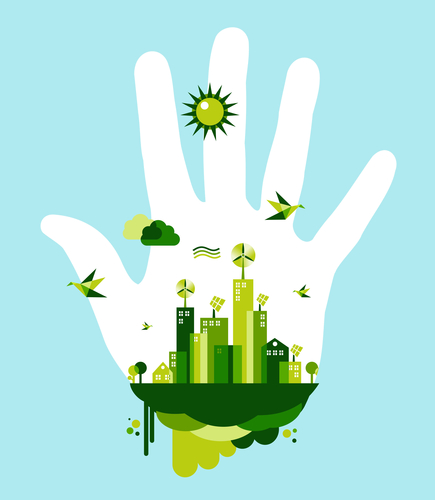 After living in your current city for a while, you might be ready for a change. Fortunately, in terms of deciding where you want to move, you pretty much have carte blanche. You are confident that you can find work wherever you live, you are great at making friends and your family is welcome to visit whenever they want.
After thinking about what you want in your new town, you keep coming back to one key factor: eco-friendliness. Ideally, your new place should help you save time, money and the environment, all at once. To find a city that matches your green level of living, check out the following tips, as well as a few suggestions on where you might want to hang your hat.
What Makes a City Green?
To hone in on what makes a city eco-friendly, check out the research conducted by the Economist Intelligence Unit. In its Siemens Green City Index, it rated the world's greenest cities according to things like transportation options, water and garbage management, carbon dioxide emissions and how the local government is committed to the environment. In addition, eco-friendly cities also tend to have a lot of smart buildings, hybrid vehicles and efficient use of space and resources.
Research What's Available
Once you have a good handle on what helps make a city eco-friendly, make an honest assessment of your life and determine which of these factors are especially important to you. Do your own research to see which cities might fit your own personal green goals. For instance, if you have always dreamed of walking or riding your bike to work, look up which cities score especially high on walkability scores, and which ones have an abundance of bike paths. If living in a green apartment building is high on your eco-friendly wish list, use search engines to look for eco-friendly and compact places to live.
look up which cities score especially high on walkability scores
Cities Making an Environmental Difference
While looking for a new place to live, you might be surprised to learn that some major metropolises have made some amazing strides to be more earth-friendly. As NationSwell notes, although Los Angeles was once notorious for its smog and light pollution, it has drastically cut its carbon emissions. Two-thirds of the city's street lights have been replaced with LED bulbs, which has significantly reduced its energy costs. If moving to LA sounds appealing, look for rentals that have eco-friendly features like programmable thermostats, Energy Star appliances, low-flow showerheads and a high walkability rating.
Another major city that has proven to be surprisingly green is New York City. Frightened by the damaging effects of Hurricane Sandy, government officials have taken tangible steps to protect the coastline, including adding miles of parkland. As the Wall Street Journal notes, the Big Apple is also launching an environmentally friendly food cart program that involves placing 500 solar-powered carts on the streets. The city is famously friendly to walkers and public transportation, and the small apartments are inherently eco-friendly.
Honolulu, Hawaii is another notably green city; it has the country's highest per capita rate of homes with solar panels. In addition, the city's leaders voted to approve a long-term plan that will have the entire state running on renewable energy by 2045. Similarly, the island of Maui is utilizing wind energy to power most of the island with new turbines being installed on the windier sides of this tropical paradise.
San Francisco of course comes to mind when thinking environmentalism, this California city is making strides towards a cleaner future. Recently installed bike-share stations throughout the downtown area, expansions of public transportation options including a new train system for those commuting from the north bay all help to move this city up the list. Also keeping the city clean is a reduction of waste. Installation of solar Big Belly trashcans, waste stream separation with recycling and composting bins, and plastic bag bans all help to keep the city cleaner while reducing waste.