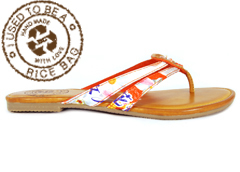 I used to be a rice bag! Well, not me…
With the weather improving (I'll take 65 degrees any day!) and it finally feeling like Spring, girls are dusting off their sundresses and flip flops to match. If you are looking for that perfect pair of flip flops, make sure you try on the unique I Used To Be A Ricebag collection from BC Footwear. They are made with love and stamped with approval, featuring an imprint that says "I Used To Be A Ricebag" surrounding a recycle symbol. It's another type of reusable bag that will definitely gain you a lot of compliments.
The eco-friendly shoe, just like the title says, is handmade from used rice, detergent and various other storage bags. Previously intended to end up in a landfill somewhere, these bags can now show off their unique colors and patterns walking down the street. They feature a cushioned insole and rubber sole and fit true to size. BC makes two types of these chic sandals, the Danke Ricebag and the Earthquake Ricebag.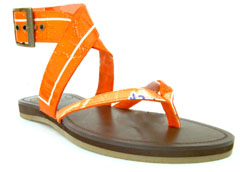 The Danke Ricebag is standard flip flop design with two colorful straps on each side made from the recycled ricebags which can be purchased for $30. The Earthquake Ricebag is a standard flip flop style with an added ricebag strap that wraps around the ankle and is $45. Each pair of sandal is different which means ordering online may give you a surprise color. To track down a specific color, be sure to visit Nordstrom or other specialty shoe providers, or call the online provider to see which colors they have in your size.
[ad name="Go-KM-Lgsq"]
BC Footwear encompasses a relaxed attitude combined with the adventurous and confident spirit of trend setting girls. In addition to the I Used To Be A Ricebag collection, BC is using recycled cardboard for their shoe boxes and using 90% less glue. They even provide tips on how to reuse their boxes, such as a lunchbox, a purse, or storage for a knitting kit.
These sandals are perfect for gift giving this Spring and Summer. If flip flops aren't your favorite, BC also makes a ricebag phone and credit card wallet which has vibrant colors and, like the shoes, every wallet is unique in color and pattern for a one of a kind product. A goal of BC Footwear is to "to give you what you want if you only knew you could have it." With the I Used To Be A Ricebag collection, it's easy to be environmentally friendly and even easier to want these shoes.