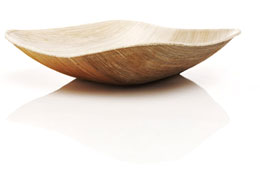 I know it sounds like a complete oxymoron, but these picnic plates are both disposable and truly sustainable. Best when composted (as things don't biodegrade in a landfill) to be truly sustainable cradle to cradle compliant, these sturdy plates are as much at home on your fancy dining room table as they are in the backyard. They feel as if they are made of wood, but actually are created by one of the least impact-full materials and processes: pressed fallen leaves.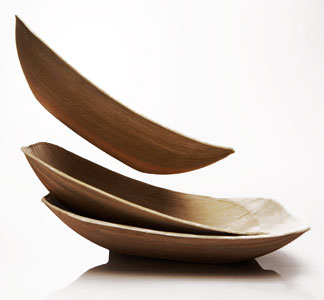 It's so simple and natural, it boggles my mind. Leaves that have fallen naturally are collected and pressed together using no chemicals, waxes or bonding agents, leaving them completely non-toxic and chemical free. This means no chemical binding agents or lacquers will be released into your hot food, and they compost easily and naturally. These are leaves that would have otherwise been burnt as agricultural "waste" but are instead formed into plates, bowls, and platters that are sturdy enough for both the microwave and regular oven.
The process itself is quite amazing as well. Using only 10% of the energy it takes to make recycled paper plates, production is facilitated by fair-wage workers along India's Malabar Coast in the most environmentally conscious manner possible. Production scraps are turned into a powder which is used as fertilizer for farmers that supply Verterra with leaves. 84% of their factory water gets reused into water clean enough that even the CEO drinks it (they hope to reach 90% by the end of the year). In addition, none of the leaves are thrown away, and their total waste in a month is 2-3 consumer sized trash cans.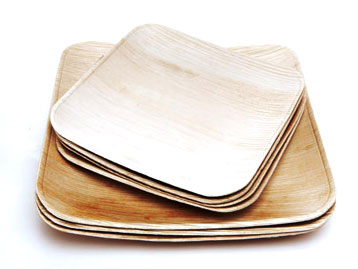 Bottom line, check these out for yourself and I am sure you will see why there is no comparison among so called 'disposable' dinnerware. Pair with some biodegradable cutlery, or better yet, just use your regular everyday silverware. Verterra Plates, bowls, and more are available from amazon, or try your local natural food store.