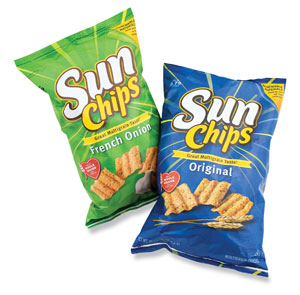 I just happened to see an amazing thing last night on television, a (seemingly) plastic snack-chip bag biodegrade in a time lapse in 12 weeks. Impossible! Or is it?
NatureWorks has developed a compostable bag for PepsiCo's Frito-Lay Division, the makers of SunChips. As with many claims of length of time to biodegrade, it is usually very dependent on the environment it is placed in.
This fully biodegradable bag is said to be able to decompose over 14 weeks when placed in a hot, active compost bin or pile—at home or at an industrial composting site.
Unlike most biodegradable plastics which just break down into smaller pieces, but remain in the environment as small bits of plastic, these are made from a biopolymer resin made extracted from plant sugar called polylactic acid (PLA). PLA is made from lactic acid which in turn is made from dextrose by fermentation. Dextrose is made from starch and starch is made from carbon dioxide and water. It is said to also lower the impact on greenhouse gasses when compared to plastics due to the fact that it's made with plants that grow annually instead of petroleum (which takes millions of years to form).

[ad name="Go-JP Rectangle"]
Set to release on Earth Day 2010, I look forward to this big step towards sustainability and look forward to proving it's claims in my own backyard compost pile.