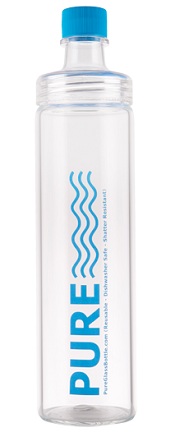 Speaking of wasting water, why not conserve it in a nice clean glass container? Pure has come out with a shatterproof completely clear solution to glass water bottles.
They were nice enough to send me their 520ml Traveler bottle to try out and it quickly has become my waterbottle of choice. The outer coating is BPA free and gives the bottle a nice non-slip grip and feel while remaining totally transparent.
The top is also ingenious with two screw tops, one with a wide mouth to accommodate ice cubes and easy cleaning, and a small drinking top to prevent splashing when drinking on the go.
A great replacement to bottled water, this reusable choice keeps waste out of the trash vortex in our oceans and out of landfills.
Plus it's clean, stylish and can accommodate any drink mixes, powders or liquids you can throw at it. Nice!