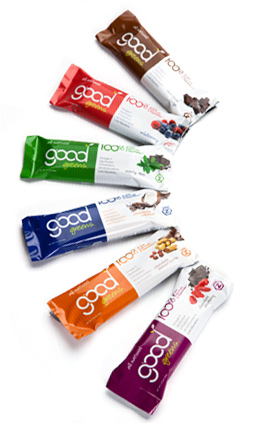 I am kind of a health food junkie. Walking home from work, I pass a Whole Foods, which is kind of like my version of a candy store. Fresh organic produce and delicious real food found throughout, but some days I just don't have time to prepare my breakfast or lunch.
I've tried to suppress my hunger and supplement my meal (or lack of) with an energy bar or health bar, but usually this just leaves me feeling unsatisfied and hungry. Many taste like cardboard, and those that have flavor are more like a candy bar, loaded with sugar. This usually compounds my problem, leaving me more hungry due to the high carb and sugar content. I wonder what I am missing out on nutrition wise as well since it tends to just be a filler.
Lucky for me Good Greens was kind enough to send me a sampling of their real whole food, natural and organic energy bars. They come in a range of delicious flavors and all but one have a dairy-free organic chocolate coating.
What impressed me the most was the taste was amazing for so little sugar. With 14 grams or less sugar in each bar, it is much lower than most, and I love that they use agave syrup to sweeten their bars. It also has a nice balance of protein and carbs, giving me energy, while still calming my hunger. They have a great comparison chart on their website to compare the benefits of the Good Greens bar with the other health bars out there.
Gluten Free
Low Glycemic
Organic
Vegan
Raw (cold pressed)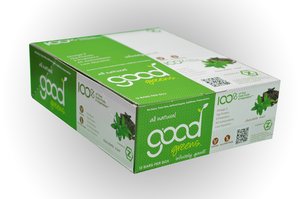 These food bars also host a whole boatload of super foods which are part of their Z-52 powder and include everything from Spirulina to Camu Camu Powder. Give them a try or stick them in your kids lunches, they will rave about them!