The other day I received a wonderful gift box from Glenwood Garden, a social issue focused market carrying local handmade and sustainably produced foods. Kind of like a modern and sustainable alternative to the Hickory Farms style gift baskets, except with small specialty produced artisan foods and goods.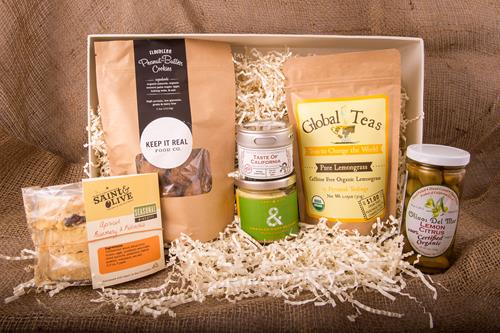 My gift box was a delightful collection of California and Bay Area produced pickled olives, mustards, biscotti, tea, spices, and cookies. Perfect for a thank-you basket, welcome gift, or unique specialty shopping, Glenwood Garden items are unique and delicious.
Glenwood Garden California Artisan Food Gift Box
Taste of California Spice Blend by Gustus Vitae
Flourless Peanut Butter Cookies by Keep it Real
Tarragon Dijon Mustard by Clif Family Winery
Lemon Citrus Olives by Olivos Del Mar
Rosemary Pistachio Biscotti by Saint & Olive
Pure Lemongrass Tea by Global Teas
I especially enjoyed the unique flavors of the Saint & Olive apricot, rosemary and pistachio biscotti, wonderfully unexpected and delicious; along with the low glycemic (but extremely appetizing) peanut butter cookies from Keep It Real Food Co. You really can't go wrong!
With their Shopping for A Cause page, you can donate 25% to 50% of profits from your purchases to participating non profits of your choice, including Earth Share and various food banks. A great social entrepreneurial company with a great mission for good- with amazing food!