Et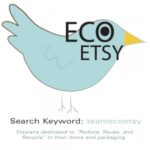 sy is one of those sites where you can foresee an obvious and easy transition into the green neighborhood. As an online store where people can set up "shops" to sell their homemade or restored goods, there's everything from jewelry, to clothes, to housewares, to unique gifts of all sorts. I recently noticed that Etsy has started to set up an eco-friendly section of the site known as EcoEtsy. Last Christmas I found a myriad of awesome gifts for friends and family that were low impact to the environment, and just plain perfect for the people on my list.
When I started looking through the Etsy site, I was disappointed to find that that EcoEtsy is actually really hard to find on their main site.  They don't even have an eco or green category on their main page. It seems to me if you're going to have an EcoEtsy blog in this green era, it would be in your best interest to advertise that on your main site. The only eco-friendly point of interest on their main site is the ability to search for local sellers. I appreciate the ability to search for goods from sellers that are only in neighboring towns, severely cutting down on emissions from shipping.
Aside from the complete lack of exposure, the EcoEtsy site was still exciting for me. I spent way longer than I should have at work looking through the eco-goods from various sellers. If you want to search for items from the EcoEtsy team on the main Etsy site, simply do a tag search for "TeamEcoEtsy". They've set up a twitter and a Facebook account  as well if you're interested.
EcoEtsy is currently holding an Earth Day Auction on their blog. They plan to donate all the proceeds to the World Wildlife Fund. There are six categories to vote in: Baby, Home, Fashion, Jewelry, Paper Goods, and Health & Beauty. After some searching I also found lots of eco-tutorials and eco-tips that I found useful, including "Eleven Uses For Used Tea Leaves and Bags" and how to make "Toilet Paper Roll Planters".
My three favorite things I found while perusing the site were:
1) KnitStorm's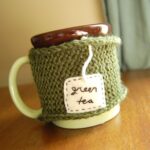 Green Tea Mug Cozy. If you're like me, and you like something hot in the morning this is the perfect way to avoid Starbuck's waste of a paper sleeve and still keep your hands from getting burned. I could definitely use one with my daily cup of tea. They also come with labels besides green tea, such as "Hot" or "Earl Grey".
[ad name="Go-ED-LgSquare"]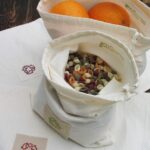 2) goodkarma's Reusable Bulk Food Bags. It's way past time to stop using plastic in the grocery store. Take the plunge with this set of four bags to stop using plastic bags for good.
3)  zJayne's Dryer Pillow Sheets. Made with organic lavender buds and double sewn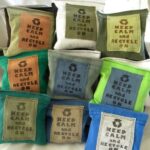 to avoid escapees, these are a great alternative to synthetic dryer sheets, and they're ten times as cute.