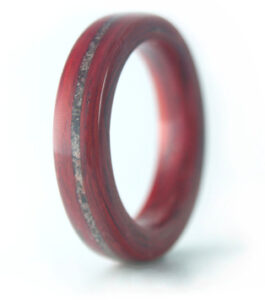 Simply Wood Rings are some of the most unique and beautifully designed jewelry I have ever come across. With the help of a two apprentices and one office worker, Gustav Reyes employs a relatively cutting-edge method of wood-working to create durable, one-of-a-kind rings. Using bent lamination, a technique used in furniture construction, Gustav cuts thin strips of wood that are then soaked and wrapped rather than carved against the grain. This creates a very durable ring that maintains the structural integrity of the wood and its grain. The ring is then molded, carved, and embellished and finally covered with a lacquered finish. Created from a single piece of wood, these rings are not constructed by a lathe, nor do they have metal inserted to create stability. They can only be made by hand. The wood in the ring is manipulated only to the extent that it is capable of being manipulated; its integrity is never compromised.
Each piece is crafted from repurposed materials. Salvaged lumber from other artists, wooden objects of personal significance from customers (such as baseball bats or musical instruments) are transformed into unique engagement rings, wedding bands or special gifts.
"I strive to create art with love and an understanding that this love is not a possession but a gift that must be shared. I try to give back to that love by making art not depleting the universe but reshaping one of its greatest gifts-trees. Through the use of wood all the energy, spirit and history of the tree is worked to bring out that beauty.
Art is a pure expression of a life lived without constraints."
– Gustav Reyes
Gustav handcrafts every ring to bring out the warmth and honesty of the wood, striving to maintain its original spirit. When you order one of their rings, you know you are getting something that comes only from environmentally and socially conscious sources, something that has been uniquely crafted by hand to bring out the true beauty of each piece of wood.