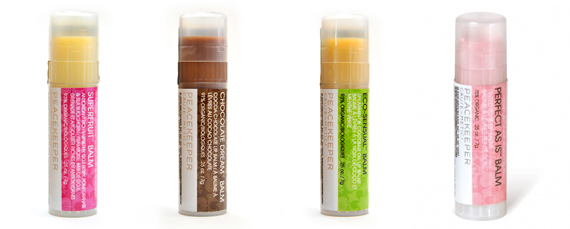 If you're like me, you love when you can contribute to a great cause just by buying things you would normally. That being said, I cannot stand buying things simply because they donate 10% of a way overpriced item to charity. I'd much rather donate that 10% myself, and buy something I actually want for a decent price. I donate regularly to my favorite causes and finding products that support good causes is just a bonus in my opinion.
Peace Keeper Cause-metics, while a still a young company isn't shying away from donating despite the rough economic times. They're embracing it. They continue to donate a portion of their sales, even when they are not profitable. That, I think is the mark of a great company. Putting the cause before the cash.
While Peace Keeper is committed to supporting women in harmful situations around the world, they're not skimping on quality. Most of their formulas are mineral-based, without parabens, phthalates, formaldehyde, acetone, toluene, mineral oil, synthetic fd&c colors, artificial fragrances, artificial preservatives, and they don't test on animals. Yeah, get out your list of no-no ingredients (or check the skin care ingredients to avoid list), and that about covers all my concerns.
[ad name="Go-ED-LgSquare"]
I received two samples from them of a lip gloss and a chapstick. The lipgloss was smooth and although the color was a little pink for me, the quality of the gloss was self-evident. The chapstick on the other hand, was perfect. So perfect in fact, I used it as a gloss for my wedding. It was the perfect eco-friendly option for my wedding, and even better it supported women everywhere on my special day.