Looking for that chic new bag, but want something a bit, well, greener? City Kitty has you covered, in style. From handbags, totes and messenger bags, all six styles are made from reclaimed materials, making each one unique with a clean modern design. Express your individual personality and go green with a Recycled Belt Bag
I happened upon one of these bags from an acquaintance who was very excited about the find, and had received multiple compliments on it. They are very well constructed, and i would have believed it to have come from a high end designer, imagine my surprise to find out it was made from repurposed vintage blankets, curtains, coats and belts! I had to find out more, so I went directly to the source, Sabrena Wright, the designer and creator of City Kitty Design.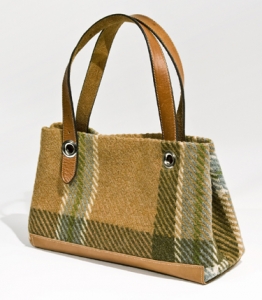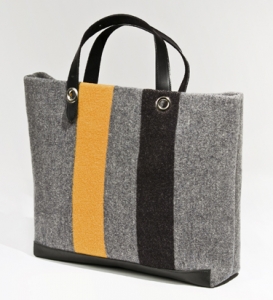 How did it all begin?
About 8 years ago I started designing and making handbags for fun. About three years ago I started using old wool blankets and tooled leather belts to make handbags, a shop owner asked if I would be interested in making bags for her shop – this was the start of City Kitty.
Eco-friendly was paramount when I decided to start the company. I wanted to prove that reclaimed and recycled materials do not have to be made from plastic and do not have to look 'trashy'.
The great thing about using reclaimed materials is that they have been used – there is history woven in the fibers. Every handbag looks new and modern yet each has its own bit of history.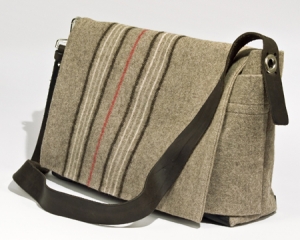 What do you see for City Kitty's future?
The main future goals for the business besides increasing distribution, is to continue improving the handbag designs so that the bags are 100% eco-friendly – eliminating the use of metal fasteners and grommets and looking for new eco-friendly/sustainable materials. Next year I will be transitioning the brand from 'City Kitty' to 'Sabrena Wright' to best reflect the evolving quality and design. I have a few new designs that are not on the website yet, I just finished them this week. These are new designs for 2009 – a lot more hand sewn leather details and the designs are more refined.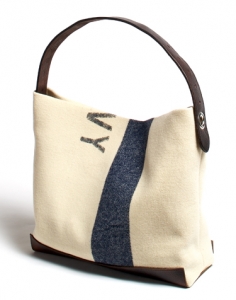 Where do you get your design ideas and inspirations?
I find inspiration everywhere and usually when I least expect it – from walking the dogs to looking at Indian artifacts in a museum – I don't leave the house without my sketchbook. I am influenced by Le Corbusier – very much a form follows function kind of girl. In the world of handbags, I admire the third read – the design details – of Hermes and Henry Cuir.
What makes your bags eco-friendly?
The wool, cotton, linen and leather used to make my handbags are a mix of pre and post consumer waste and sustainable fibers (wool, linen, hemp). Larger scraps of leather are given to another artist to use for leather jewelry. I use refurbished vintage sewing machines to sew all of the fabric portions of the handbags, most of the leather is hand sewn using waxed linen thread. All of the paper marketing materials and product tags are printed on 100% recycled paper.
To find out where to buy these wonderful green totes and bags, check out her website at City Kitty Design.