What makes denim eco-friendly?
Since the definition can be very broad, we want to be as transparent with our choices as possible.
This is how we determine how eco-friendly and sustainable:
Cotton can be very intensive to produce, and some alternative fibers are finding their way into denim. The various materials used have a direct environmental impact through farming practices and processes used in production of those fibers.
Denim can use a lot of water, nearly 10,000 liters of water in the production process for a single pair of jeans. Reduction or recycling of water use in the dying and washing process can dramatically lower impacts.
Factories producing denim can pose a variety of health hazards, not to mention sweat-shop conditions. We want to see fair labor practices and transparent supply chains to ensure socially responsible production.
Chemicals (including)

Synthetic dyes can have toxic chemicals and often are dumped into nearby streams and waterways. Using natural dyes with wastewater treatment or closed systems lessen impacts from coloring agents.

Sandblasting and distressing is often responsible for worker health issues. We like to see finishes that don't use practices known to harm both workers and the environment.
Fashion is the third most polluting industry in the world, and the second largest consumer of water.
Here are some brands on the forefront of sustainability, pushing the industry in a cleaner, less destructive and more compassionate direction.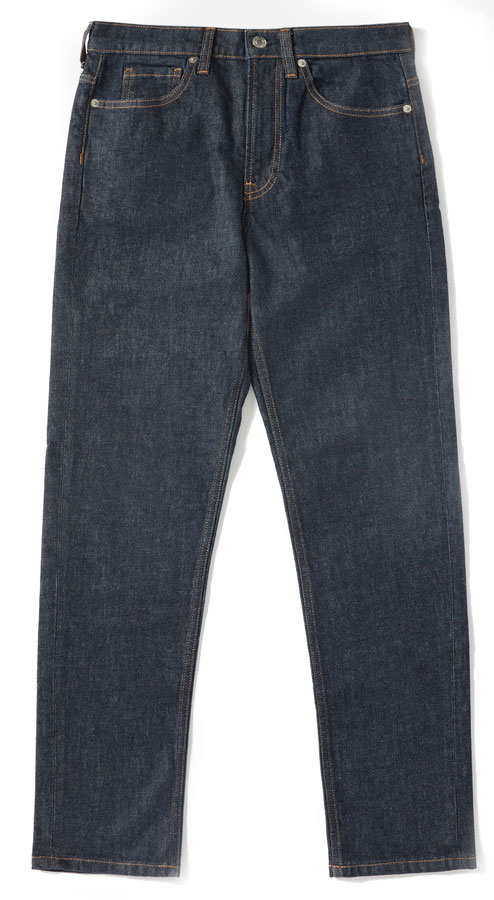 Known for their 'Radical Transparency,' Everlane seeks to transform the clothing industry by focusing on factory ethics and transparency in costs. They have made strides in environmental sustainability with their denim line as well with new processes in denim production.
What we like:
A more fashion-forward fit and color that sits a bit higher on the waist, the slight give from the Japanese denim (and 2% elastane) is subtle but appreciated for the more substantial weight. The LEED-certified factory with its water and energy efficiencies and transparent practices is a favorite of ours. We also appreciate the apparent quality and value of Everlane products.
Materials: 100% Cotton – 11oz Raw Denim
Water Use: Closed system recycles 98% of all water used
Labor Production: Factory transparency
Chemicals-
Dyes: Closed system with dye waste recycled into concrete
Finish: No harmful finishes
Everlane Denim Responsible Factories
Conventional cotton consumes 11% of the world's pesticides and 24% of the world's insecticides while only making 2.4% of crop production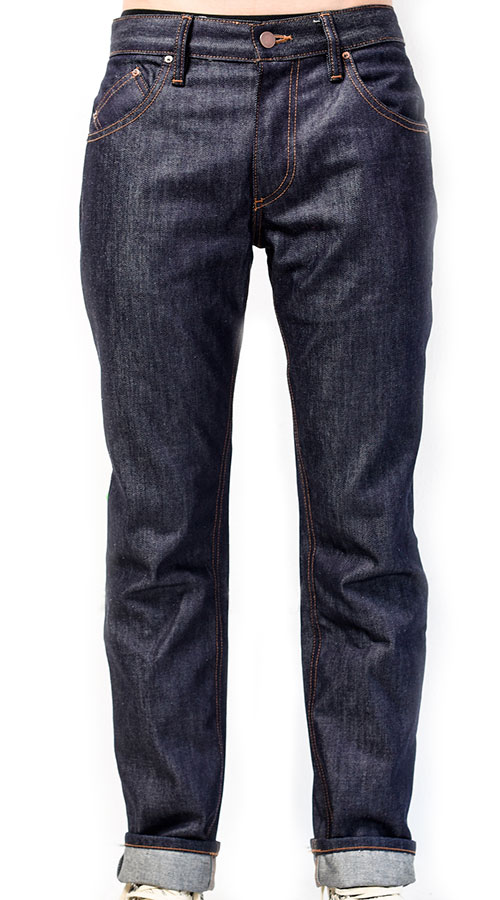 Born from a desire to make rugged, simple, responsible cotton, Source Denim creates simple quality jeans with attention to detail and sustainability. Working with Greenpeace, they developed a less resource-intensive way to produce beautiful denim in order to transform the denim industry.
What we like:
They guarantee their jeans will last you at least 10 years. If they get ripped or torn in the meantime, they will provide a denim repair kit or repair them in-house them for you. They also accept and recycle your jeans at the end of their long life.
Materials: Cotton (20% from Better Cotton Initiative)
Water Use: 60% water reduction as compared to traditional methods
Labor Production: Made in the US
Chemicals-
Dyes: Biodegradable and natural Biopolymer derived from food-waste, and pre-reduced synthetic indigo dyes.
Finish: SOURCE Jeans are raw, which means there are no effects, distressing, or sandblasting
More information on Source Denim sustainability
2,000 different chemicals, including formaldehyde, chlorine, lead, and mercury are used in textile processing. Of these, over 1,600 are used in dyeing processes, but only 16 are actually EPA-approved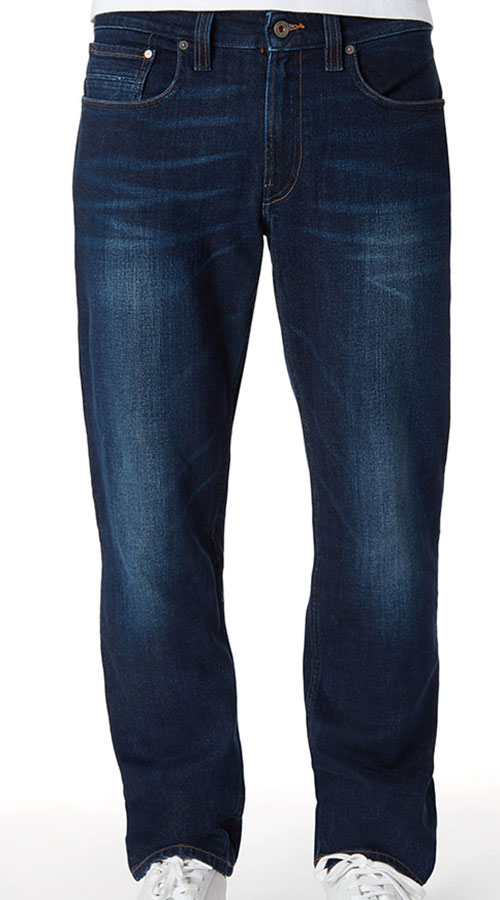 Conceived in Peru, South America, the founders of Kuyichi – NGO Solidaridad were exploring the cotton industry in Peru and where shocked by the pollution and poverty they saw. Founded on the concept that organic cotton provided a better life for farmers, Kuyichi started their line with 100% organic denim.
What we like:
We like the innovation in new materials. From incorporating recycled denim and plastic bottles into new lines, to eco-friendly alternatives like Tencel, Kuyichi isn't above breaking some stereotypes about denim. They also release a sustainability report every year which includes information about their suppliers, code of conduct and use of materials, revisiting their transparency openly every year.
Materials: Organic (GOTS certified) cotton, recycled denim, recycled PET, organic linen and Tencel
Water Use: Washed with laser and ozone techniques reducing water use
Labor Production: Transparent supply chain with fair labor practices in place
Chemicals-
Dyes: 100% natural indigo dyed
Finish: No sandblasting or abrasive blasting
Kuyichi Sustainability Report (2017)
Organic cotton is an improvement, but it is still land and water-use intensive needing between 20% to 50% more land to produce than conventionally grown cotton.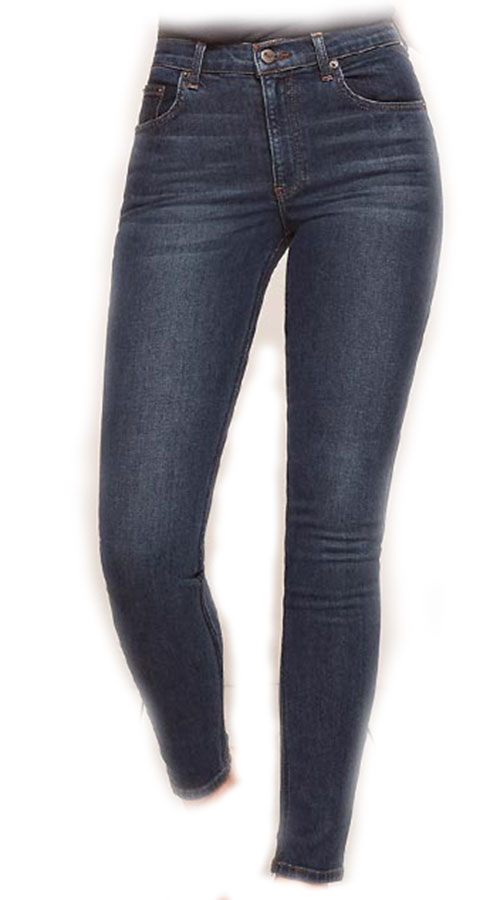 A brand built with sustainability at the core of everything they do, this Los Angeles based clothier recently re-vamped their jeans line in order to join the eco-conscience denim revolution. By incorporating a wide range of fabrics and recycled materials, they are able to lessen environmental impacts traditionally found within the industry.
What we like:
Reformation takes in consideration the entire supply chain into their sustainability efforts, from 100% renewable energy sources to recycled office pens and paper. Not only have they put a priority in harm reduction, but they also look to offset impacts with carbon credits. Oh, and if you are an employee, they plant a tree in celebration of your birthday.
Hopefully they will soon make mens jeans! (hint hint)
Materials: Vintage, deadstock, Tencel, Viscose and recycled materials
Water Use: Greatly reduced by using alternative and recycled materials
Labor Production: 100% living wages in their Los Angeles, US factory
Chemicals-
Dyes: Various, depending on source
Finish: Ozone treatments and bio-based softeners
Each item is labeled based on it's 'Refscale' or sustainability index. This is a more generalized overview of all of the garments Reformation produces.
Reformation sustainability methodology
Synthetic indigo dyes derived from coal tar and toxic chemicals are slow to decompose and are used in most jeans, including 90% of jeans from China.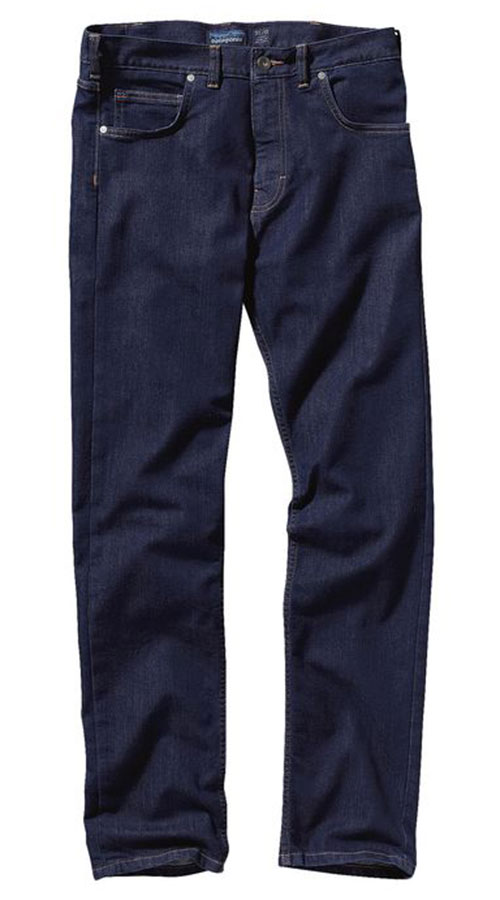 A pioneer in the sustainable movement, Patagonia has been an eco-conscious company from the start and continues to run that way. They provide transparency on their supply chain and promote sustainability as a company value.
What we like:
A medium-weight fit with a slight stretch for comfort and durability. Water repellent finish that doesn't feel waxy or synthetic. Good even coloring and a nice comfortable yet modern fit.
Materials: Organic cotton and CoolMax polyester blend
Water Use: Efficient energy and water usage (84% less water than traditional dying methods)
Labor Production: Fair Trade Certified Sewing
Chemicals-
Dyes: Archroma Advanced Denim Technology
Finish: No sandblast, bleach or stonewash finishes
Patagonia denim sustainability statement.
Denim is a dirty industry, but with companies such as these making strides in environmental and socially responsible practices, there is a glimmer of hope that the industry can be changed. Purchasing a single pair of sustainably sourced well-built jeans for the long term can easily replace 5 poorly made low-cost replacements. Now you can love your denim, and make it a bit easier on the planet.