The Enertia TTR Electric motorcycle by Brammo could be one of the first to production (and available to buy from a store in the US). In fact west coast Best Buys are lined up to carry them later this month.
With a 'real world' range of 35 miles, a top speed of over 50mph, and a wall outlet recharging system that only takes 3 hours for a full charge, it is a very practical and economical option for commuting. Each charge costs approximately 40 cents translating into a cost of one penny per mile.
Two models are currently available, the hand-built serialized Enertia Carbon Limited is spec'ed with an aluminum chassis, carbon fiber body panels and fenders, plus a leather seat for $14,995 – or the Standard which features the same aluminum chassis, but is clad with injection molded plastic body panels and fenders wrapped around a vinyl seat for $11,995.


It will even be competing in the first ever zero carbon emission Time Trials Extreme Grand Prix (TTXGP) with others like the TTX01 electric street bike and hopefully the Mission One electric superbike.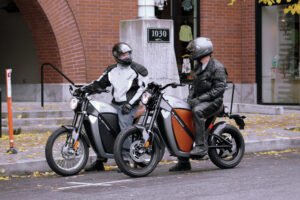 [via ecogeek]