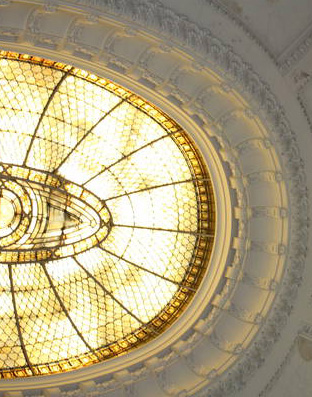 I've noticed an interesting trend lately. The renovation of old buildings. Gorgeous old buildings gutted and rebuilt from the inside-out, as green and sustainable new structures.
An exciting (and well-publicized) example of this is the Sanctuary development on Capital Hill in Seattle.
The original church was built in the early 1900s and has been a distinctive landmark of the neighborhood for years. Through the renovation of this historical icon, ecological- minded urban residences are being created.
The preservation of the beautiful building was a cornerstone of the project planning. Architectural details, bricks, wooden pews, flooring and windows were repurposed and used within the new residential development as stairs, detailing, in-fill and patching. New sustainable aspects of the housing itself include dual flush toilets and tankless water heaters. There is no avoiding the high price (with flats starting at over nine hundred grand) as the location is prime. But this development is gorgeous, trendsetting and frankly, damn cool.
[ad name="Go-RT-Large Square"]
An aspect of this development that I like the most is simply the creation of more housing within the city. The creation of housing and community within the city limits is an important element to the discouragement of urban sprawl, affecting both traffic and thus limiting greenhouse gas emissions and climate change.
Also, I'm well aware of the popularity, and the importance, of LEED certified buildings, but I get the impression that we as a culture of growth are taking a very one sided perspective on these kinds of developments. This being that they are only for "new" developments, even to the point of adding to the problem of resource use and over consumption. It's important to recognize that we can use existing materials to create something that is not only eco-friendly and sustainable, but culturally interesting and architecturally exciting.
It may be argued that there is a stronger demand for new development, if solely based on the need to create jobs, especially in this troubled economy. But in fact, renovation uses twice as much labor yet half the materials of new construction.
This type of re-development is more of a common occurrence in Europe. Many times I've sat and had a cup of coffee in new cafes housed within beautiful, historical buildings that are a huge part of the local history. To destroy these buildings is to destroy a true work of art. Instead, like a hermit crab, new businesses, cafes, and restaurants will don the shells of past buildings, creating something that is at the same time current but also loyal to the past and the history of the community.
In essence, I would summarize that this kind of development is really a case of using what you've got, a very green idea indeed. Well done Seattle, I hope to see more of these developments in the coming years, though perhaps a bit more reasonably priced.