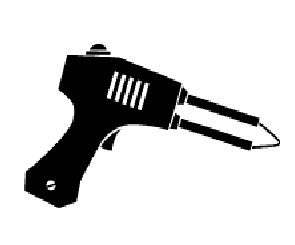 Anybody with a rudimentary understanding of electronics, especially the person that habitually tinkers with and "fixes" the various appliances at home will know how regularly solder is used and needed, even more so for those in the industry.
Up till just recently though, solder wasn't exactly a milestone of technological achievement. Rather, the basic premise behind solder has remained unchanged; it is still simply a little bit of lead (or other metal substance with a low melting point) which, after being melted, acts as an adhesive, holding together important parts of circuit. These parts being essentially an integral and regularly used component of those everyday tools like cell-phones and computers that we take for granted. Naturally, something so universal, and so small as to be oft-overlooked, is bound to have far-reaching consequences over time.
These consequences were not taken lightly by Ainissa Ramirez' and her team at Yale, who like many other scientists around the world had sought out a greener alternative for quite some time. Recently, the culmination of this teams research is to be published. An essential summary of the idea is that new tin-silver solder with iron particles will present a viable alternative to replace the afore-mentioned lead-based solder. But there's more, asserts Ramirez, as "in addition to helping make the fabrication of microelectronics more environmentally responsible, these new solders have the potential to solve technological challenges."
[ad name="Go-MM-LgSquare"]
To help preserve the environment is to help ourselves. Besides the obvious implication that a better environment will naturally be a greater bounty for us to enjoy, the research presents solutions to practical challenges in the industry. The alloy will be stronger than what we presently have to work with (the bond that it forms). Since the solder will be subject to an alternating magnetic field, the rest of the circuit remains relatively cool while the solder melts into place.
Lastly, fixing "broken" devices with problems of disconnected solder could possibly be solved by the application of a magnetic field as a means of re-melting the solder. Ultimately, what is seen here is an innovation that provides not only an environmental alternative to what is already available, but a technological advancement, something which ought to incline the industry to adopt it as well over time instead of it being relegated as a good-deed of the environmentally conscious electronics hobbyist.
For more information and a clip of the solder being manipulated, visit http://opa.yale.edu/news/article.aspx?id=7331